We made it!
Yellowstone is one of those iconic destinations that's been on my to-do list for ages but because we live so very far away, we've never been able to cross it off. I mean, an entire day's worth of driving–not an eight-hour workday, I'm talking the full twenty-four hours was enough to deter us until the perfect opportunity presented itself. We had decided earlier in the year to take a trip out to Idaho and Utah to visit Jack's sister but a combo of my car accident and then the pandemic delayed it until this summer. Since we literally had the chance to drive through Yellowstone to get to Jack's family's house, how could we say no? We didn't. Duh. 😜
No idea what that shack was originally for but it would've made a marvelous Haunted Mansion.
After we left our little slice of paradise in Wyoming, it was only a few hours worth of driving before we arrived at the east entrance of Yellowstone. The landscape continued to morph the further west we drove, and the weather, that was warm and humid at breakfast, was anything but welcoming when we crossed into the National Park.
We pulled over and ate a picnic-type lunch and stretched our legs, then got back in the car and continued driving. One of the first things that struck me was how incredibly humongous the park was. Fun fact: Yellowstone is basically one gigantic volcanic crater. Cool! When we got back in the car, we started winding our way up and over the mountain range. All along the way, there were areas of what we assumed were controlled burns to keep the forests healthy.
When we reached Yellowstone Lake, the largest, highest above sea level body of water in the country, we took another detour. Jack had been joking about jumping into the water but quickly changed his mind when we opened the doors. I thought I had planned for the mountain weather accordingly but as a naive plains and forest dweller, I grossly underestimated how quickly and drastically weather could change in higher altitudes. It was rainy and in the mid-forties and all we had were jackets. Oops. Of course, half of the kids didn't even notice. All the traveling and sleeping in unfamiliar beds caught up with them.
We didn't come all the way to Yellowstone to snooze our way through it, so with a slightly rude awakening, I got everyone's jackets out of their suitcases and by golly, we went to see some of those incredible hot springs. The first was Fountain Paint Pots, which was a series of different bubbling puddles. A series of boardwalks had been constructed around them so we didn't step on any potential weak spots and stick our feet in volcanically boiling water.
The colors of the pools were so pretty–blues, reds, greens, oranges, browns. And often, there were tiny hoofprints in the soft mud next to the water. We didn't see any animals there and I can't imagine what they do near the hot water, but they obviously travel there often.
We made it back into the car just in time for a rainstorm to come rolling through. It was heavy enough that we had to slow way down, passing all the poor motorcyclists who had pulled over entirely. As quickly as it came, it passed and we were on our way.
A visit to Yellowstone wouldn't be complete without a trip to Old Faithful, would it? Thankfully, it was on our way and we managed to time our meandering through Yellowstone to coincide with one of the geyser's explosions. Even better, we met up with the Idaho and Utah cousins, who'd saved us a seat.
It'd been almost a year since our kids have seen their western cousins, when we were all together in Michigan for a family reunion, but it took all of a second before they were best friends with their family again. About five minutes after we arrived, the geyser started it's pre-show with rumbling thunder right behind it. It was going to be a race between the geyser and another rainstorm.
We knew it was getting closer when the overwhelming smell of sulfur billowed out of Old Faithful but because of the cooler weather, there was so much steam from the hot geyser that we only got a glimpse of the very tips of the water. And then we had to make a run for it.
A handful of hail.
The rain that had been heading for us came in like a lion. Wind, a gust of cold, sheets of rain, and pounding hail. At first, we were kind of laughing and jogging for the cover of a nearby restaurant overhang but when we started getting pinged on the head with hail, we picked up the pace. Poor Peter got hit right on the noggin and he sure did not appreciate it. The rest of our kids thought it was pretty hilarious. Talk about memory making!
The ONE wild animal we saw in pretty much all of Yellowstone.
It was already getting late in the day and we had a few hours to get back to Jack's sister's house, where we'd be staying. While driving for Yellowstone's exit, we saw a bison. Honestly, I was happy to see something. Yeah, we saw robins and whitetail dear but those are all things are common in Indiana. Part of the thrill of new places for me is the potential to see new wildlife. Other than a couple of pronghorns in Wyoming and the lone bison in Yellowstone, I wasn't seeing much. It's like they knew I wanted to see them, and therefore, we all hiding. If it weren't for the beauty of the place, it would have been lame.
We couldn't help ourselves from stopping at one final spring. I mean, how often do we get to go to Yellowstone? Grand Prismatic Spring did not disappoint. Though we were tired of being cold, the warm air off the springs easily made the air temps ten degrees warmer. It did make it a little more challenging to see the spring itself because of the steam. It was a fairly quick walk around the boardwalk, ooo-ing and aww-ing as we went before running back to the car and cranking up the heat (seriously…40 degrees in July? Who'd have thought? Obviously not me!).
No Claire. She'd ditched us for a ride with the cousins.
That was our last stop in Yellowstone before we started making our way to Idaho. We did drive through Montana for all of fifteen feet but I didn't have the heart to count it as an actual visit to the state. 😉 And just like that, we were out of Wyoming and onto our third new state: Idaho! Even better, the rain passed and we were welcomed with a rainbow.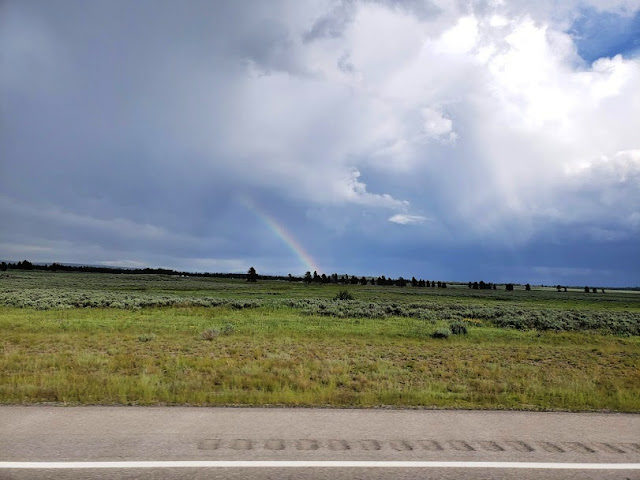 All the walking and shivering worked up an appetite. We stopped at Big Jud's, a local greasy diner for dinner. It wasn't anything fancy but it was definitely memorable. Jack and I ordered their specialty burger, which we couldn't finish even with the help of some of our kids and several of Jack's siblings. We would have never gotten our picture on the wall for our paltry effort.
In the spirit of go big or go home, Henry managed to steal about twenty unused straws. Unfortunately, that meant he couldn't actually drink his pop…
I think I could have spent an entire week exploring Yellowstone but I am so happy we were able to make it there at all. Would definitely recommend a trip there if you haven't gone and I'm already looking forward to another trip and by golly, I'll stay until I see an elk or a whole herd of bison. 😜
A spectacular goal crossed off our list and the start of a new state!