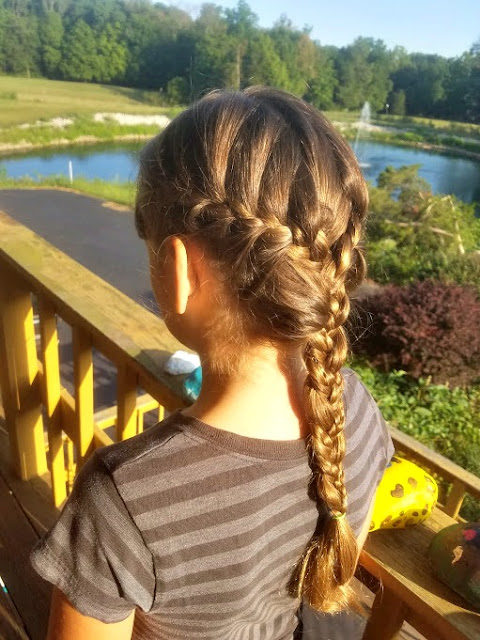 We call this the Trifecta Braid.
If there's one thing I'm really not good at, it's doing hair. I can't curl or style or fix or braid hardly at all (unless we're talking about braiding Stoney's hair for a show. Then I'm not so terrible). Half the time, if I do try to fix anyone's hair, it looks mediocre at best. Then, the other half of the time, my girls get into a wrestling match and mess up their hair, which reinforces my lack of desire to fix hair in the first place.
That's right…burrs in Kate's hair. Oops.
Before my daughters lopped off all their beautiful hair to donate, I decided to try and become at least a little better at braiding. It kept their hair from getting too tangled and kept it out of their face. Plus, if I did a decent job, they were impressed enough to try and be a little more careful when romping and playing, so at the end of the day, it looked semi-okay.
I started off with the French braid…
…then a braided twist…
…the dragon braid (
which doesn't look anything like the tutorial, but was still cute
)…
…the woven criss-cross pigtails…
…the half-ponytail french braid…
…the rocker-chick half French braid…
…the full double French braid…
…the out-and-around braid…
…and one of my favorites, the fishtail.
Mostly, they're all variations of a couple different braids. As their hair grows out again, maybe I'll branch out into other, more challenging braids. That is, if I can ever master the very basic ones. And, because I'm not that fantastic of a braider, there's no way I could ever do it on my own hair. Solution? Let the girls "braid" my hair for me (mostly, they just tangle it up, stick a couple bows in it, and call it good). I'm all fancy and ready to go!
So, while no one is going to be calling me to do their wedding party's hair or anything anytime soon, I gave it an honest effort. With four girls and their prolific hair, I'm sure someday, I'll be a master braider.