Jack and his first largemouth bass!
This morning, the kids and I were cleaning up the house while Jack was milking Dolly and putting in a new round bale for the horses. On his way back to the house, he decided to shove off on our paddle boat and put his lure in the water to see if any of the bass were biting. In a matter of minutes, he had one on the line.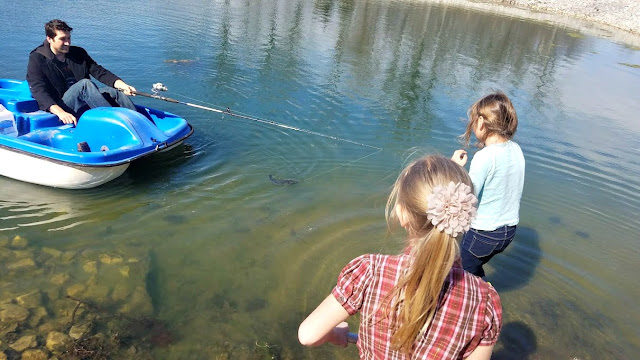 We knew we had bass in the pond…when we brought home some fish from a nearby fishery to restock the pond with algae and snail eaters, the smarter fish all scattered and hid while the not-so-lucky ones floated right into the mouth of some hungry bass.
Jack and I have both been fishing before but it was more the leisurely version where you throw a hook with a piece of corn into the water and pull out a sunfish. After watching a few videos and learning just how bass hunt, then a few trial and error runs, he managed to outsmart his first fish of the day.
He called for us to come out and everyone ran for the pond like we'd told them it was made out of candy.
The fancy lure that tricked the fish.
Everyone had a turn to observe the bass and then we had a vote on whether to eat it or send it back…
…the lucky fish was decided to be too small to eat, so it was sent back to the water to get bigger and hopefully, make some baby bass.
True to Jack's personality, one is never enough. We had a few chores to do and went into Indy for the afternoon, but every spare moment we were at home, he was at the pond, seeing if he could perfect his fishing skills. Claire had some one-on-one time when she asked to go with him. I watched from the window and laughed when she almost snagged a fish. It tugged on the line and jumped out of the water but managed to free itself.
Apparently, she'd gotten so excited about catching a fish that she started rolling the reel the wrong way and let out enough line that it escaped. But, the fish were biting today and she managed to catch another, bigger fish than Jack.
Claire said the best part was how tuggy they were on the line.
(
I love how descriptive kids are
).
Jack caught another, Henry gave it a try and caught an enormous wad of algae, and the rest of us will have to wait for another day.
Though I'm not a huge fan of eating fish, the rest of the family loves it. The pond is undoubtedly fun but we also look at it as a sort of food and water storage. Knowing we can actually catch the fish living within is definitely a bonus! We'll keep practicing and maybe when we know the population is robust, we'll have a fish fry. Until then, keep swimming!
Jack and Claire paddling out on the water.