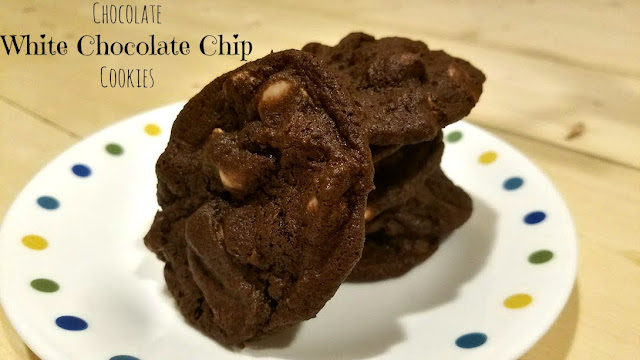 I feel like I've been sharing a lot of cookie recipes lately but what can I say? I'm two weeks overdue and when I get a craving, there's no stopping it. But, I like to change it up once in a while and this one hit the spot.
Ingredients:


1 stick butter, softened
1 cup packed brown sugar
1 egg
1 teaspoon vanilla
3/4 cup flour
1/3 cup cocoa powder
1/2 teaspoon baking soda
1 teaspoon salt
1 cup white chocolate chips


Preheat oven to 350F and lightly grease a baking sheet, setting aside. Cream together butter and sugar until light and fluffy. Add in egg and vanilla until smooth. Sift together the dry ingredients and add into the moist, combining until well incorporated. Fold in white chocolate chips. Drop by tablespoonfuls onto baking sheet. Bake for 8 to 10 minutes. Let cool a few minutes on a baking sheet, then finish cooling on a rack.